Need the best Brakes in Memphis?
Steve's Tire And Auto has been your trusted tire and auto service center in the Memphis area since 2008.
---
---
Steve's Tire and Auto is your go-to provider for all brake related maintenance and repairs in the Memphis area. We offer a comprehensive list of brake services performed by our skilled technicians. Your vehicle's brake system is a vital component that effects the efficiency of your vehicle and provides a high level of safety for not only you and your passengers but also other drivers traveling on the road. To maintain a high level of braking performance, a proactive approach like regular checking of parts will keep your brakes working efficiently.
At the first sound of grinding or squealing, you should immediately schedule an appointment to have your brakes inspected, as they may be far gone and need quick repair. If your car pulls to the side when braking, you may have worn brakes, caliper malfunction, or low brake fluid. An easily pressed brake pedal may be an indication there is too much air in the hydraulic brake lines. Whatever brake issues you may be experiencing, the professionals at Steve's Tire and Auto will make sure your vehicle is braking properly after we thoroughly inspect the braking system and make repairs.
At Steve's Tire and Auto, our experienced technicians will do a full inspection of your brakes to guarantee they are in good working condition. Each part including brake pads, brake shoes, rotors, drums, parking brakes, and hydraulic systems will be checked for maximum performance. If the need for specific maintenance or repairs is discovered, we will then bring it to your attention and discuss your options. You are familiar with your vehicle and know the types of sounds it makes. Take note of any grinding or squealing you hear. If something just does not seem right, trust your instincts, and let our experienced technicians do a full inspection of your brakes. We take pride in knowing that our Memphis area customers are safe due to our extensive brake repair services.
Sometimes brake parts will need to be completely replaced. Brake rotors are susceptible to wearing down over time as brake pads constantly press against them. The buildup of heat also damages your brake rotors. If your brake pedal vibrates when you are trying to stop your vehicle or you hear a grinding noise, it could be a sign that you need rotor replacement. Keep an eye on your rotors, especially as your vehicle ages. They may be close to needing replacement. A proactive approach could save you the cost of extensive repairs that may develop and potential safety issues including major accidents.
Your parking brake is used as an additional safety measure to keep your vehicle securely parked, especially on a steep hill. Failure of your parking brake could result in the unfortunate event of your vehicle rolling down a hill, potentially leading to an accident. The parking brake can also be used in situations where you need to stop abruptly. There are several types of parking brakes, and they operate differently. Whether your parking brake has a stick, center lever, or pedal locking mechanism, Steve's Tire and Auto can make the correct adjustment. With our services, you can rest easy knowing your parking brake system is ready to perform when you need it.
Heat and friction cause a significant amount of damage to rear drum brakes over time. If you hear unusual sounds like squealing, screeching, and grinding, it could be that your drum brakes are due for repair. The brake shoes may be rubbing against the brake drum, meaning they are wearing away at the drum. Steven's Tire and Auto will inspect your brake shoes, wheel cylinders, springs, and self-adjusters, all working parts of rear drum brakes.
Rear disc brakes offer a great amount of stopping power, and they receive a lot of wear and tear from all the friction and heat that occur when engaged. The ventilation supplied by the rotors allow heat to be removed to help the braking system not overheat. Disc brakes consist of pads, calipers, rotors, and parking brake assembly, all of which need to be checked for compromised functionality. Squealing and grinding are good indicators that your rear disc brakes may need replaced. Let the professionals at Steve's Tire and Auto fix any rear disc brake issues you may have before they develop into major repairs.
Your front disc brakes are the main source of braking on your vehicle. They wear out quickly, so it is best to be aware of how well yours are working. Repeated braking compromises brake pads, calipers, rotors, and hydraulic parts, which all work together to stop your vehicle. If any of those components are worn or failing, your vehicle's stopping power will be decreased. The longer you wait to make repairs, the longer you risk needing extensive repairs in the future. And, you also risk your safety and the safety of others. At Steve's Auto and Tire, we will gladly help you with your braking needs.
---
They were so nice, friendly and professional! Shout out to the BEST tire and auto we have ever dealt with! They certainly earned our business for the future!

Malissa H., Memphis
Read More Testimonials Here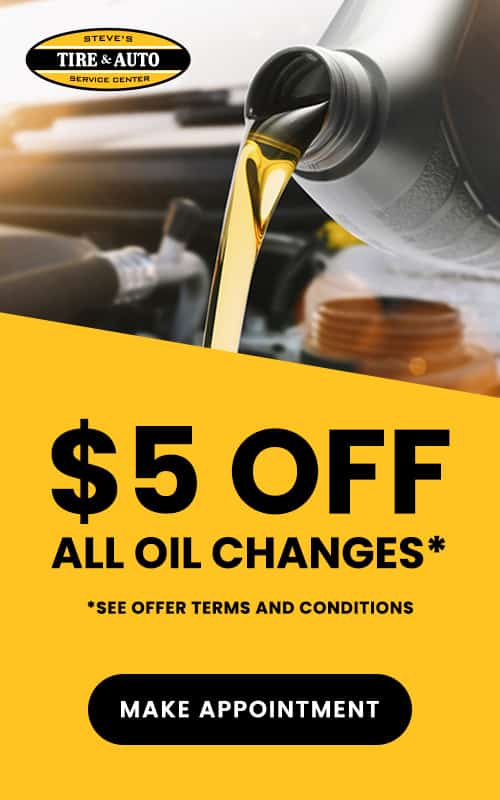 * Offer Terms And Conditions